By Vivienne Ke | November 10 2020
Colie Wertz is a well-acclaimed concept artist and modeler in the film industry. Colie has been creating 3D vehicle and prop designs for feature and futuristic films and played a principal role behind the scenes in Hollywood blockbusters, such as Dune(2020), Captain America, Transformers, Iron Man, and Lone Ranger. With more than 20-years of experience depicting the future technology, now his fantasies have come alive in a powerful laptop- The MSI GE66 Raider Dragonshield Limited Edition!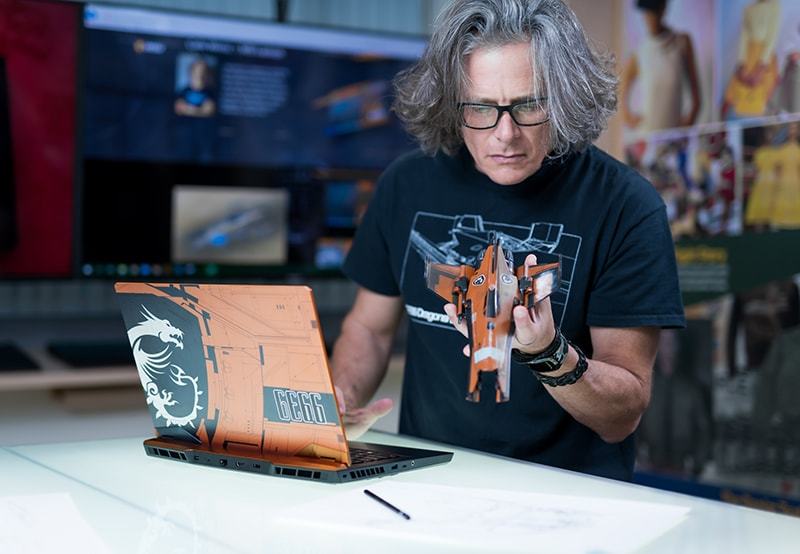 Study the world around you, any chance you get-Colie Wertz
Let's give you some background knowledge of the legendary Colie Wertz. Few people know that between obtaining an architectural degree to achieving fame as a Hollywood Concept Artist, Colie experienced lots of turning points on his few-fold self-exploration journey. However; those ups and downs have pushed him down the path to becoming a versatile visual effects artist and won himself a job at Industrial Light and Magic (ILM), a company founded by Star Wars creator George Lucas. This achievement opened another chapter of Colie's career.
With his accumulated experience, he quickly stood out from the crowd and was credited in a countless list of well-known science fiction movies. Wertz's work is like a fully realized world, characterized by bold splashes of color and stylish logos emblazoned all over his character's ships. These brilliant designs showed that Colie was the obvious choice to make the MSI GE66 Raider Dragonshield Limited Edition!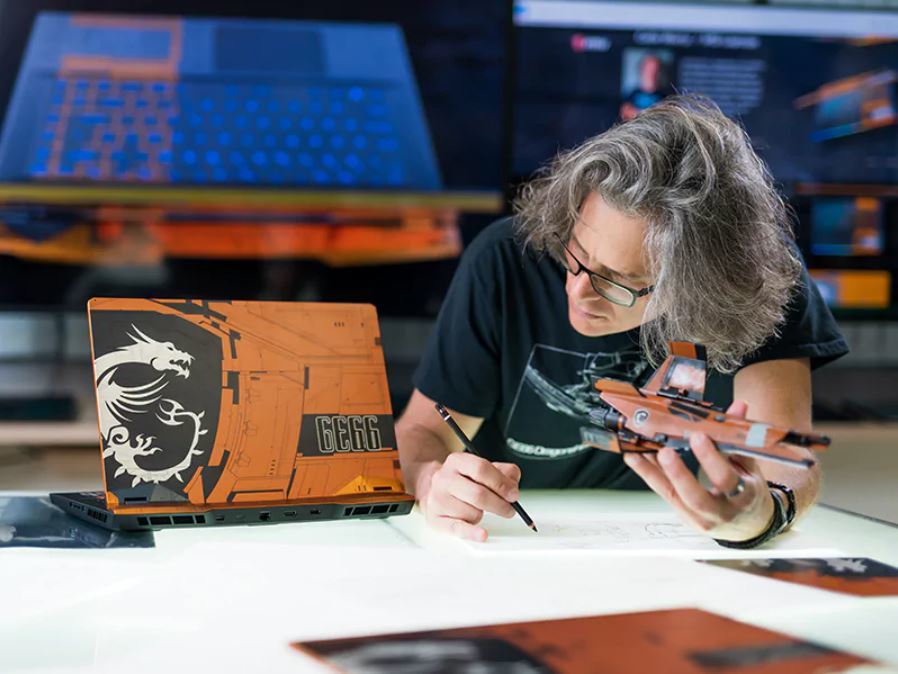 The design inspiration of GE66 Dragonshield Limited Edition

Communication skills, synthesizing people's ideas, and realizing their visions are Colie's strength. To encourage Colie to think out of the box, MSI suggested that Colie take a bold approach: Making the GE66 a part of a spaceship, which is definitely Colie's specialty! Colie then quickly assembled his design elements and drew an outline to meet the expectations of both parties.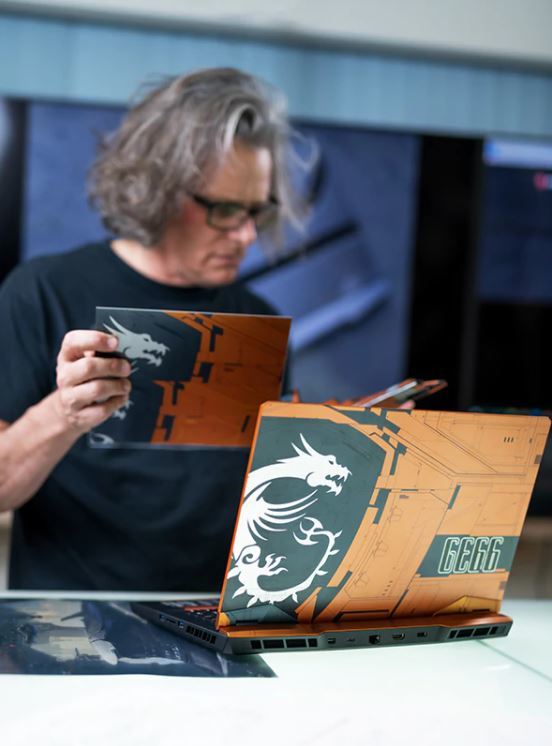 What makes Colie's approach a little different than other artists is his passion for creating, versatile experiences and excellent drawing skills! Colies is like a real-life inventor, who has crafted many mechanical droids and spaceships, all of which are leaps and bounds beyond the capabilities of modern technology. MSI and Colie eventually came to the conclusion to create a slim and fast fighter, which was known as the GE66. "We are sort of letting the laptop help drive the design of the fighter ship; the ship is also driving the design of the computer, like walking hand in hand together during the whole design process" said Colie.
The one-of-a-kind GE66 Dragonshield Limited Edition: The real-life spaceship has landed!
Not only aesthetic surface treatment, Colie's creations always showcase stunning miniature renditions of future technology, which are attributed to his intelligent construction, mechanics, and techniques."I imagined the Dragonshield being the heart of the machine's design. In doing so, I envisioned the shield being displayed prominently on the back of a winged ship."Colie said. The chassis is partially armored with etched metal panels, which resembles the section of a spaceship, extending from lid to bottom.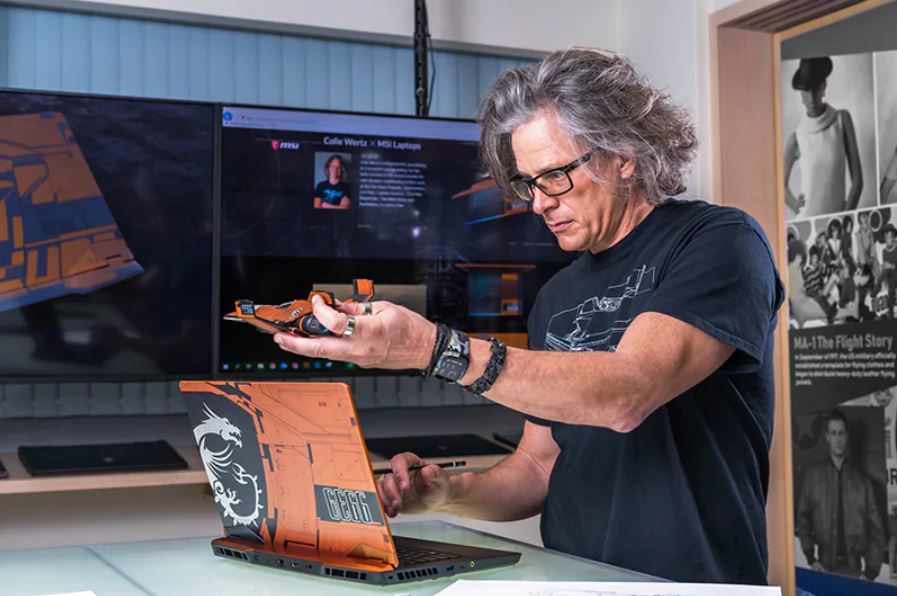 To Colie, the GE66 is also the incarnation of a faster-than-light fighter. The laptop's sleek look and powerful performance suggest the strength of a spaceship, and the fine line work, along with the case, represents the all-around features of the GE66. Through all this, a never-before-seen limited edition was born.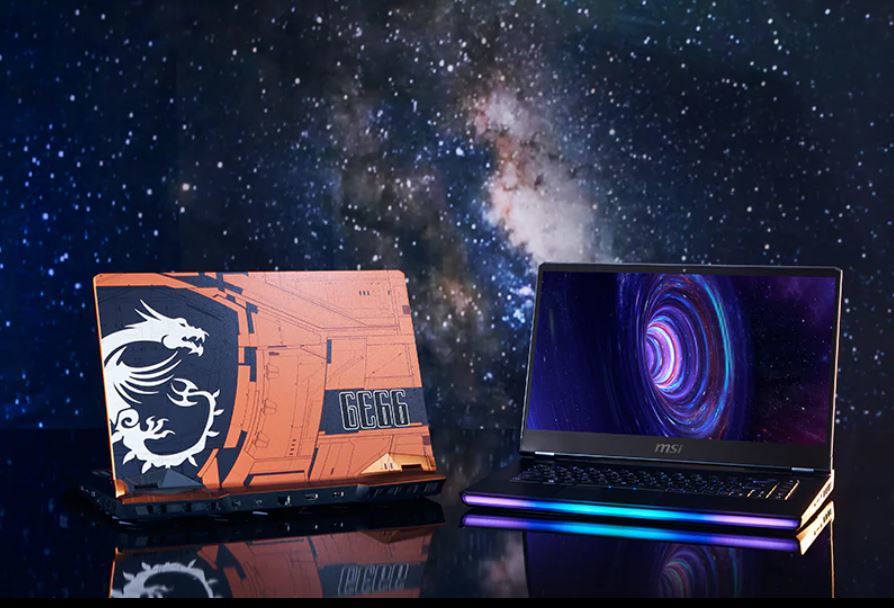 One of the different challenges Colie came across while transitioning from designing film scenes to real products was to find a balance between design quality and product features. Nevertheless, he was beyond thrilled by the outcome when he saw the freshly manufactured laptops. Colie Wertz successfully turned imagination into reality and vitalized the GE66 into a tough, interstellar fighter spacecraft, the Dragonshield.